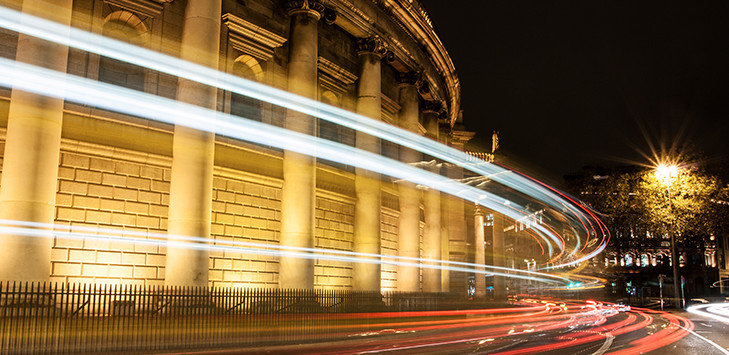 Bank of Ireland Group is one of the largest financial services groups in Ireland, with total assets of €124 billion at 31 December 2018. We provide a broad range of banking and other financial services. We are organised into four trading segments and one support division to effectively serve our customers.
The Group is organised into four trading segments and one support division as follows:
Retail Ireland
Retail Ireland offers a broad range of financial products and services through the largest branch network in Ireland with 265 branches. It is one of Ireland's largest lenders with over €5.7bn lent to the Irish economy in 2018, with 2,800 front line colleagues and 1,000 specialist advisors in the community that are focused on serving customers brilliantly and enabling our customers and communities to thrive. Retail Ireland serves c.200,000 SME customers across a diversified portfolio of sectors, with an average relationship tenure of c.17 years.
Wealth and Insurance
Formerly the Bank of Ireland Life operating segment now, as well as New Ireland Assurance, incorporates Private Banking, Investment Markets and Bank of Ireland Insurance Services. A leading life and pension provider and general insurance provider in the Irish market. New Ireland has been serving customers brilliantly for over 100 years.The Group is the only bancassurer in the Irish market.
Retail UK
Retail UK distributes consumer products via partners with trusted brands, a universal bank in Northern Ireland (NI) and strong niche businesses in attractive segments. It distributes products including savings, mortgages, personal loans and credit cards via its partnerships with UK Post Office and AA. Operates a universal bank in NI with 28 branches and six business centres, offering both retail and commercial banking. Has a strong niche businesses including: asset finance under the Northridge Finance and Marshall Leasing brands and FX via First Rate Exchange Services Limited (FRES).
Corporate and Treasury
Ireland's #1 Corporate Bank and leading treasury service provider. Corporate and Treasury incorporates the Group's corporate banking, wholesale financial markets, specialised acquisition finance and large transaction property lending business.The Bank holds market leading positions in its chosen sectors, including corporate banking, commercial property, foreign direct investment and treasury.
Group Centre
Our business segments are supported by Group Centre: comprising Group Manufacturing, Group Finance, Group Risk, Group Marketing and Human Resources. The Group's central functions, establish and oversee policies, and provide and manage processes and delivery platforms for the divisions. Group Centre plays an important role in enabling the Bank's purpose and creating value for stakeholders. We are the market leader in Ireland for robotics and automation, which operates from the Robotics hub in Cabinteely.