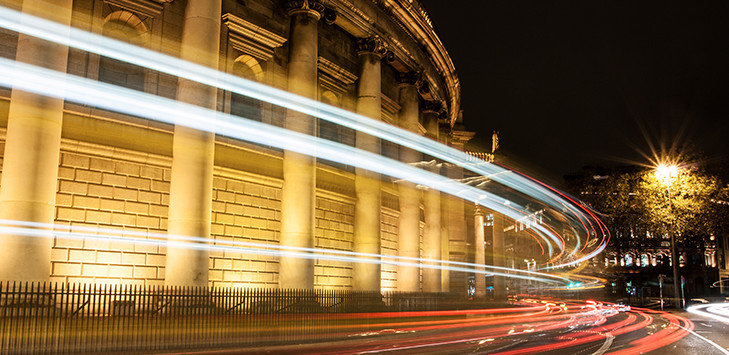 Bank of Ireland Group is one of the largest financial services groups in Ireland with total assets of c. €123 billion as at 31 December 2017. The Group provides a broad range of banking and other financial services. These services include; current account and deposit services, overdrafts, term loans, mortgages, business and corporate lending, international asset financing, leasing, installment credit, invoice discounting, foreign exchange facilities, interest and exchange rate hedging instruments, life assurance, pension and protection products. All of these services are provided by the Group in Ireland with selected services being offered in the UK and internationally.
The Group operates through 4 trading dimensions as follows:
Retail Ireland
Retail Ireland offers a comprehensive range of banking products and related financial services to the personal and business markets including deposits, mortgages, consumer and business lending, credit cards, current accounts, money transmission services, commercial finance, asset finance and general insurance. Retail Ireland serves customers through a distribution network of branches, central support teams, ATMs and through direct channels (telephone, mobile and on-line).
Bank of Ireland Life
Bank of Ireland is Ireland's only bancassuer. The Group's life assurance dimensions, Bank of Ireland Life includes the Group's wholly owned subsidiary, New Ireland Assurance Company plc (NIAC).Through NIAC, the Group offers a wide range of life assurance, pension, investment and protection products to the Irish market through the Group's branch network, its financial advisors (direct sales force) and independent brokers.
Retail UK
Retail UK primarily comprises consumer and business banking via a branch network in Northern Ireland, its the Group's UK residential mortgage business and the business partnerships with the UK Post Office and the Automobile Association (AA). Most of Retail UK's operations are conducted through the Group's wholly owned UK licensed subsidiary, Bank of Ireland (UK) PLC. A range of retail financial services are provided in the UK via an exclusive relationship with the UK Post Office, the AA and a range of other partners. This gives the Group access to an extensive distribution network through which it distributes mortgages, personal lending, savings, insurance, banking and foreign exchange products and a large fleet of ATMs. 
Corporate and Treasury
Corporate and Treasury comprises the Group's Corporate Banking and Global Markets activities across the Republic of Ireland, UK and selected international jurisdictions.
Corporate Banking provides banking services to major corporations and financial institutions. The range of lending products provided includes overdraft and short term loan facilities, term loans, project finance and structured finance. Corporate Banking also includes the Group's Acquisition Finance business.
Global Markets transacts in a range of market instruments on behalf of both the Group itself and its customers. The activities include transactions in interbank deposits and loans, foreign exchange spot and forward contracts, options, financial futures, bonds, swaps, forward rate agreements and equity tracker products. In addition, Global Markets manages the Group's liquid Asset Portfolio.